BOLIVAR, Mo. – The Southwest Baptist University Theatre program opens the 2019-2020 season with the timeless play "Steel Magnolias," written by American playwright Robert Harling. The show will be presented at 7 p.m. Sept. 26-28 in the Davis-Newport Theater on the Bolivar campus.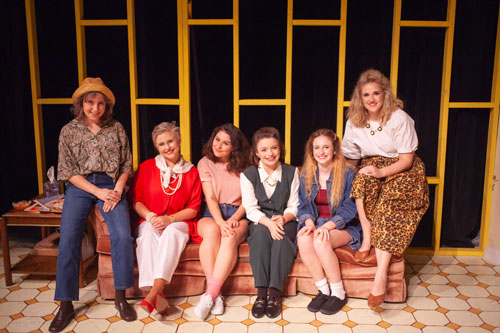 "Steel Magnolias" is inspired by Harling's experiences with his sister. Her story is found in the unbreakable bond between a group of southern women. The comedy-drama opens in the fictional northwestern Louisiana parish of Chinquapin at Beautician Truvy Jones' in-home beauty parlor, where the women regularly gather. The play follows the next three years of their health complications, friendship and transformation.
"Steel Magnolias" is directed by Melissa Harlow, a 2007 SBU graduate, and assistant director Emmi Kerr. Harlow's recent directing credits include "The Amish Project," at Missouri Baptist University, the New York Staged Reading of "cover: a play about trafficking," and the Midwest regional premiere of "This Very Moment – A Musical Revue," by Brett Kristofferson. Harlow is the co-founder of Stomping Ground Theatre Company in NYC.
The cast features Alexa Joy Bell, Elizabeth Coulter, Faith Weaver, Katelyn Bloom, Tayler B. Bates and Ellyssa Polley. The crew includes: Christina Foltz (stage manager), Morgan Hixson (assistant stage manager), Alexa Joy Bell (costume designer), Joel Walley (scene designer), Daniel Stucky (technical director), Jessie Paxton (hair and makeup designer) and assistant Chloe Jones, Allison Swetnam (props designer), Caylee Keith (lighting designer), Ryan Lee (house manager and sound designer), Caleb Mooney (dramaturg), Abigayle Wilken (public relations designer) and producer Dr. Bethany Wood, assistant professor of theatre at SBU.
Harlow said she is "incredibly excited to direct a show about six strong and generous women."
"I am even more excited about the six women that will bring these roles to life," Harlow said. "It takes me back to my time at SBU where I found women to laugh, cry, travel and talk with. I think the strong and generous sisterhoods that were and are created in the lobbies of dormitories, the field of a Bearcat game, and crammed car rides of new friends going on an adventure.
"It is in the friendships with these women that I found my own Steel Magnolias."
Bell said that when creating her costume design, she "imagined their outfits – what they would wear on their good days, their bad days – and went from there."
"This show is all about friendship and womanhood," Bell said.
Tickets range in price from $4-$10 and may be purchased at the Box Office in Jester Learning and Performance Center from 1-5 p.m., through Friday, over the phone at (417) 328-1691 or online at www.sbuniv.edu/theatre.
SBU Theatre typically produces four main stage productions each year, as well as other events such as improv shows, student plays and one-act plays. Both theatre majors and students from other majors have the opportunity to participate in all aspects of theatre arts. As a part of the SBU Theatre experience, students have the opportunity to work on productions that are solely designed by students with guidance from the faculty members.
For more information about the production and SBU Theatre, contact Jonathan Wehmeyer, instructor of theatre, at (417) 328-1954 or jwehmeyer@SBUniv.edu.
---
PHOTO: "Steel Magnolias" cast includes (from left): Tayler B. Bates (Ouiser), Katelyn Bloom (Clairee), Faith Weaver (Shelby), Elizabeth Coulter (M'Lynn), Ellyssa Polley (Annelle) and Alexa Joy Bell (Truvy).
*Published: 9-25-19