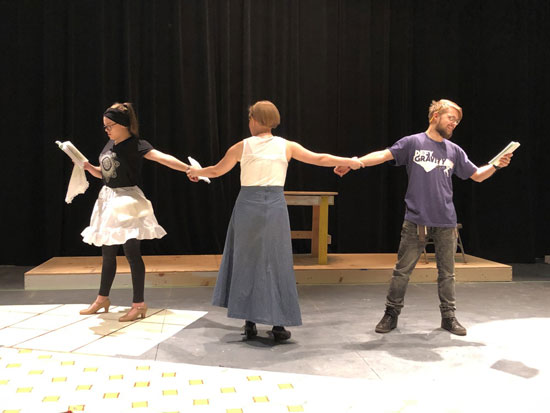 BOLIVAR, Mo. – Southwest Baptist University Theatre will present the French comedy, "Tartuffe," on Nov. 7-9 and Nov. 14-16 at 7 p.m. in the Davis-Newport Theatre on the Bolivar campus.
Jean-Baptiste Poquelin, known by his stage name Molière, was a French playwright, actor and poet, who is widely regarded as one of the greatest writers in the French language and universal literature. Serving as one of Molière's 14 known plays, "Tartuffe" addresses religious hypocrisy that the playwright observed in the court of Louis XIV. This 17th Century play will be performed in a "thrust" theatrical arrangement, meaning the audience will be seated on the stage – a unique and exciting opportunity for the audience.
Directed by Dr. Bethany Wood, assistant professor of theatre at SBU, "Tartuffe" has enjoyed widespread success throughout the theatre world, being adapted into movies, television shows and even an opera. This comedy is extremely effective at addressing certain issues that often go unnoticed. This play is comedic, intriguing and genuine.
"What makes 'Tartuffe' such a good play is its ability to discuss heavy, serious topics in a lighthearted, hilarious way," said Ali Oldweiler, a senior theatre major at SBU.
Tickets for the production may be purchased in person at the Box Office (located inside the Jester Learning and Performance Center), online at sbuniv.edu/theatre, or by calling (417) 328-1691. Tickets are $10 for adults, $6 for students, senior citizens and SBU alumni, and $4 for current SBU students.
For more information about SBU Theatre, visit sbuniv.edu/theatre or call (417) 328-1691.
---
PHOTO: (From left to right) Maura O'Brien, Ali Oldweiler and Daniel Stucky rehearse a scene from "Tartuffe."
*Published: 11-4-19