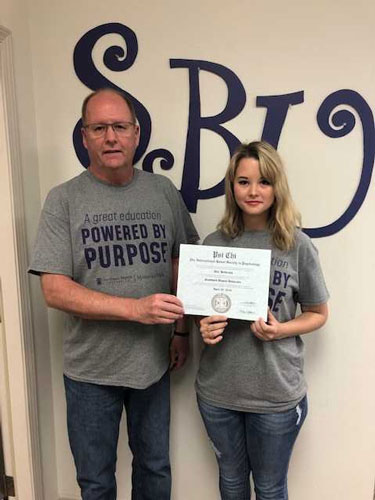 BOLIVAR, Mo. – Allie Hickerson, a junior psychology major at the Southwest Baptist University-Mountain View campus, recently was selected for induction into Psi Chi, the International Honor Society in Psychology.
Psi Chi was founded in 1929 with a mission to encourage excellence in scholarship and advance the science of psychology, and provides members with opportunities to make the most of their unique skills and talents. The requirements for selection for Psi Chi are at least three semesters of college, complete with 9 class hours in their major, a minimum of 3.0 overall grade point average and a minimum of 3.25 GPA in their major. Students also must be in the top 35 percent of their class.
Psi Chi is a springboard for professional growth; entitling members to list membership on their résumés for graduate school as well as being recognized by the United States Government as meeting the entrance requirement at the G-7 level in the Federal Service.
---
Photo: Allie Hickerson (right) with Phil Rohrer, instructor of psychology and coordinator of behavioral sciences on the SBU-Mountain View campus.
*Published: 5-21-19