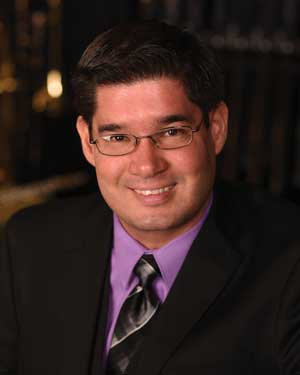 BOLIVAR, Mo. – The SBU Community Concert Series welcomes pianist Dr. Joshua Pifer as he presents a concert at 7:30 p.m., Thursday, Nov. 7 in Meyer Recital Hall on the Bolivar campus of Southwest Baptist University.
Pifer will be performing works by Scarlatti, Mozart, Corigliano, Piazzolla and Tcherepnin.
Praised for his "sensitivity," "color," and "depth" in performance, Pifer has appeared in concert in countries on three continents as well as 22 states in the U.S. His first CD, "Alexander Tcherepnin My Favorite Piano Works" (released by Puros Records and co-produced with Chandler Bridges, a Grammy award winning recording engineer) was praised as "full of intensity and commitment" and "brilliant and original." Pifer is the founding member of several chamber music ensembles: Plains2 with Dr. Matthew Wood, trombone; The Duo Echo with Jennifer Pifer, oboe; and The Oto Trio with Eleanor Pifer, violin, and Chikuen Kato, Japanese artist.
Pifer currently serves as President for the Alabama Music Teachers Association and is a strong advocate for increasing professional music opportunities for collegiate students. Pifer regularly presents lectures, clinics, and performances at professional conferences, and as a pedagogue and performer, he believes that music is a tool for inspiration.
Pifer is Assistant Professor of Piano and Keyboard Area Head at Valdosta State University. During the summer months, he serves as piano faculty at Blue Lake Fine Arts Festival. Prior coming to Valdosta State University, he served at Auburn University, Florida State University, Wittenberg University, and the Orfeo Music Festival in Vipiteno, Italy.
The public is invited to attend this free recital and is encouraged to attend a reception in the Meyer Recital Hall lobby after the performance, as well as support SBU Music students through donations for music scholarships.
Other artists scheduled to appear as part of the SBU Community Concert Series include: Thomas Stein and Jonathan Sokasits. The William and Kathy Brown Guest Artist Series will present Dr. Joyce McCall in February 2020.
For more information about the concert series, contact Dr. Robert Carney, associate professor of music at SBU, at (417) 328-1644 or rcarney@SBUniv.edu.
*Published: 10-31-19