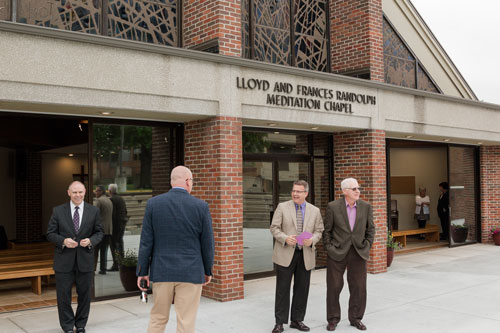 BOLIVAR, Mo. – Southwest Baptist University hosted a dedication ceremony for the renovated Lloyd & Frances Randolph Meditation Chapel and Clement Amphitheatre & Prayer Garden on Thursday, May 9 on the Bolivar campus.
"May Randolph Chapel continue to be such a place where we encounter the Lord – a place of sanctuary, a place of solace," said Dr. Eric A. Turner, president of SBU, who read from Psalm 63 – a psalm of David, during his time in the Desert of Judah. "More importantly, however, may this place encourage and continue to instill a hunger and thirst for our Lord – the only one who can satisfy.
"I'm so grateful to those who have made this chapel a sustained reality – Dr. Don Jump, others, Robbie Bryant and your staff, thank you – outstanding work. Well done. This chapel embodies our institutional effort to accomplish our mission."
In the spring of 2018, the SBU Board of Trustees approved the renovation project for the chapel (built in 1988), amphitheater and garden. SBU raised more than $165,000 for the project, which included new outdoor seating, replacement of concrete, a new roof, new interior paint, new exterior and interior lighting, new and refurbished landscaping, new technology and a new cross outside of the chapel.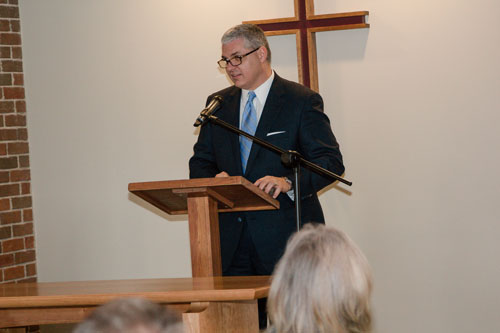 The renovation also was made possible due to successfully meeting a Mabee Foundation grant challenge, and the generosity of a number of faithful donors, including a gift from Liberty Utilities – Empire District. One of the successful endeavors, while fundraising for the project, was to establish an endowment that will fund the maintenance of the facility in the future.
Dr. Brad Johnson, vice president for university relations at SBU, shared a brief history of the chapel during the dedication ceremony.
"Sometimes, when you are busy in life, you can go by and miss different things that are important," Johnson said. "I want to point out a couple of things that I think are really important about this building that, if you don't look carefully, you might miss."
He pointed to two "often overlooked" scriptures in each corner of the stained-glass panels – Matthew 28:19-20 (The Great Commission) and John 15:13.
"I think these two scriptures are good reminders for us," Johnson said, "a reminder that SBU's mission is concerned with the training and preparing students to live out The Great Commission in their chosen field. And, a reminder that we should spend our days in sacrificial service to, and in support of, one another."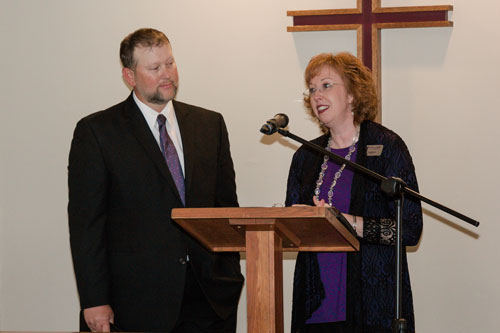 In 1986, Lloyd and Frances Randolph of Hydro, Okla., envisioned a prayer chapel on the SBU campus and provided a significant gift to make the chapel a reality. John Clement, for whom the amphitheater is named, was a Christian entrepreneur from Neosho, Mo. He served as mayor of Neosho and was once a member of the SBU Board of Trustees. Upon Clement's passing, his wife, Pat, provided the funds to build the amphitheater.
"With the generous contributions from the Randolph and the Clement families, SBU first dedicated this facility on March 16, 1988," Johnson said. "Since that time, students, faculty and staff have spent moments of quiet reflection and prayer in this chapel. But, it's also been used as the venue for numerous praise services, concerts and class sessions, and even a play or two outside.
"While Dr. and Mrs. Randolph and Mr. Clement are no longer with us and are with the Lord today, I believe that they would smile with great satisfaction to see their gifts woven into the spiritual fabric of Southwest Baptist University."
The cross, which is a new feature outside of Randolph Chapel, was the inspiration of SBU alumnus Charles "Chuck" Wright '64, and designed by Robbie Bryant, director of SBU's physical plant.
While attending Homecoming activities in 2014, Wright stopped by the chapel and felt that something was missing. He shared his thoughts with classmate, Dr. Don Jump, during their class' 50-year reunion dinner, that a cross would be appropriate outside of Randolph Chapel.
When Jump heard the news of the renovation, he passed along Wright's wish to add a cross.
"Here we are, four-and-a-half years later, and we love it," Jump said. "I called Chuck about a month ago, and I said, 'I think you'd be pleased with the cross.' He was thrilled that the cross had become a reality.
"I told him it is kind of a central location on campus, and he said, 'Maybe the students can get the word – I'll meet you at the cross.' May we never, never take our eyes off the cross."
The impact of Randolph Chapel on the SBU community has been a significant one – both for the past and the present.
Dr. Julie Bryant, professor of education at SBU, recalled what Randolph Chapel meant to her while a student at SBU.
"I can't tell you what it looked like, but I know what it felt like," said Bryant, who attended Bible studies and mission trip meetings in the chapel, as a student.
After returning to SBU as a faculty member, and later serving as Faculty Senate president, she felt led to begin a prayer time at SBU – a time when faculty and staff could gather together to set the tone for the day, praying for each other, sharing each other's burdens and praying for SBU.
That was three years ago, and the prayer time at 7:14, based on 2 Chronicles 7:14, continues each Friday morning.
"We truly believe that this Bible verse (2 Chronicles 7:14) holds the key to bringing revival to our campus," Bryant said. "We know that this is the place to do it because the presence of the Lord is truly in this place."
Robbie Bryant recognized and thanked those who performed the physical work on the renovation of the "showpiece" on campus, which included: Steve Rhodes, David Thiessen, Bolivar Ready Mix and SBU's physical plant housekeeping, grounds, and maintenance.
From the student perspective, freshman social science education major Kaitlyn Wright shared how thankful she is to have a dedicated place on campus to not only take part in small groups and worship time, but to be able to have personal time – 24 hours a day, 7 days a week.
"It creates more opportunity for students, having a place like this," Wright said. "It is a reminder that your relationship with God is No. 1. My hope for the future of Randolph Chapel is for it to act as a place for God's encounter with you. Whether it's prayer or worship, God meets you where you are, so I hope students continue to take advantage of that opportunity, alongside the staff."
For more information, contact Ashley Dinwiddie, director of donor relations, at (417) 328-1835 or adinwiddie@SBUniv.edu.
---
Photo 1: Visitors and the SBU community tour the renovated Lloyd & Frances Randolph Meditation Chapel and Clement Amphitheatre & Prayer Garden during the dedication Thursday, May 9.
Photo 2: SBU President Dr. Eric A. Turner addresses the audience at the dedication ceremony for Randolph Chapel.
Photo 3: Robbie Bryant, director of SBU's physical plant (left), was the one to oversee the renovation project. He is pictured with his wife, Dr. Julie Bryant, professor of education at SBU, who recalled what Randolph Chapel meant to her while a student at SBU, and what it still means to her during the dedication of the chapel, amphitheater and garden.