BOLIVAR, Mo. — Southwest Baptist University alumni and friends will celebrate Homecoming on Friday, October 18 and Saturday, October 19 on the Bolivar campus.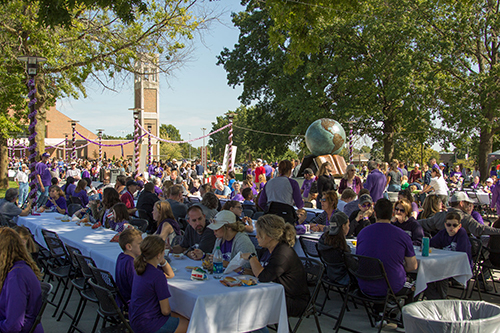 "Homecoming weekend is always exciting," said Holly Bridge, director of alumni engagement. "We are expecting another record crowd for Homecoming this year with more than 1,200 people pre-registered. Seeing alumni, parents of current students, and friends of the university gathered together to fellowship and reminisce about their time at SBU, makes Homecoming extra special each year."
The celebration begins on Friday with Honors Chapel at 10 a.m. in Mabee Chapel. The program features the introduction of the Homecoming court and the presentation of alumni honors. Life Service Awards will be presented to Dr. Russell Ford '65, '67, Dr. David Hilderbrand '65, '67, Dr. Gary Longenecker '71, and Dr. Glenn Miller '81, while Elizabeth (Mitchell) Pace '59 will be honored with the Edwin Lightfoot Distinguished Alumni Award.
Friday also includes the 50-Year Club luncheon at 11:30 a.m., followed by the Class of '69 reunion from 1-3 p.m. The annual Student Bed Races run at 4:30 p.m. on the Burnidge Memorial Forum, and the SBU men's and women's soccer teams will take on the University of Indianapolis at 1 p.m. and 3:30 p.m. respectively. The alumni banquet (6:30-8 p.m.) and alumni dessert reception (8 p.m.) wrap up Friday's festivities.
The Bearcat 5K run/walk and 1-mile fun run/walk, to benefit the Justin Baker Memorial Scholarship Fund, kicks off the activities at 8:15 a.m. Saturday. Included in the many events on Saturday is the alumni breakfast at 8:30 a.m., followed by the Homecoming parade at 10 a.m. The Bearcat Bash, which is from 11 a.m.-1 p.m., includes inflatables and games for kids of all ages. The SBU football game vs. Quincy University starts at 1 p.m., with the king and queen coronation taking place at halftime.
The Bearcat Bash, a family friendly event with food and activities, is free for those who pre-registered. For those who did not pre-register, tickets are $7.50 for adults and $5 for children.
While pre-registration is closed, tickets for all Homecoming events can be purchased at the Homecoming registration booth in the Student Union on Friday from 8 a.m.-7 p.m. and Saturday from 8 a.m.-1 p.m.
For more information and listing of events for SBU Homecoming, go to advance.SBUniv.edu/Homecoming or contact the Office of Alumni Engagement at (417) 328-1806.
*Published: 10-7-19