BOLIVAR, Mo. – Southwest Baptist University's Tim Chappell, assistant professor of mathematics, recently presented at the 2019 MOMATYC spring conference in Kansas City, Mo.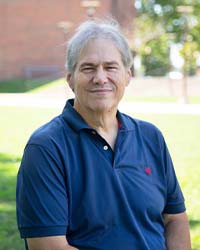 MOMATYC is the Missouri Mathematical Association of Two Year Colleges and represents mathematics taught during the first two years of college.
In his presentation – "Utilizing Text and Technology to Drive Student Engagement within Statistics" – Chappell discussed how he keeps his statistics courses dynamic and engaging with the support of the Navidi/Monk solution. Chappell, a past president and longtime member of MOMATYC, also shared tips and tricks to support meaningful interactions between students and technology, fostering true curiosity that guides students from understanding, to mastery, to real-world application.
"Statistical Reasoning is a first course in statistics that has recently been approved as a general education math pathway for all Missouri public colleges," Chappell said. "Most college math teachers have had few, if any, statistics courses, and typically those courses were theory-based. An introductory statistics course is unfamiliar territory to them, and there are few professional development opportunities to learn how and what to teach in the course. I was invited to present at MOMATYC this year to share from my experiences."
Chappell also was invited to speak at the Flash Forward 2019 conference on April 27 at Victor Valley College in Victorville, Calif. There, he presented two workshop sessions on "College Algebra: A Model Approach." Those sessions focused on the modeling approach to college algebra used at SBU. He also shared some of his classroom activities and projects.
*Published: 5-9-19