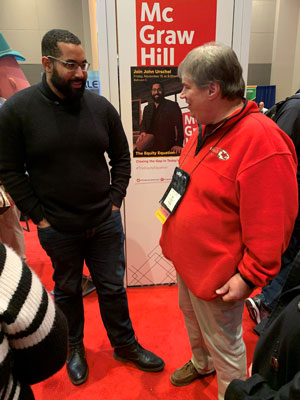 BOLIVAR, Mo. – Southwest Baptist University's Tim Chappell, assistant professor of mathematics, recently presented at the 2019 AMATYC conference in Milwaukee, Wis.
AMATYC is the American Mathematical Association of Two Year Colleges and represents mathematics taught during the first two years of college at community colleges as well as universities.
In Chappell's presentation – "Algebraic Reasoning: A Model Approach" – he discussed the framework of the College Algebra class at SBU, explained how he uses a flipped classroom in his class and shared some of his classroom activities.
A highlight of the conference for Chappell was meeting and talking with John Urschel, a former professional football player who is now working on a Ph.D. in Mathematics at MIT with the goal of becoming a math professor.
"I always learn so much from this conference," Chappell said. "There were a number of time slots where it was difficult to choose between sessions I was interested in. I was pleasantly surprised at the large turnout for my session, as well as the number of follow-up emails I received after my presentation."
---
PHOTO: John Urschel (left) and Tim Chappell talk during the AMATYC Conference.
*Published: 11-22-19