BOLIVAR, Mo. – Southwest Baptist University student Jacob Banks has been named the 2019 recipient of the Southwest Baptist University Scholarship awarded by the Missouri Baptist Foundation (MBF).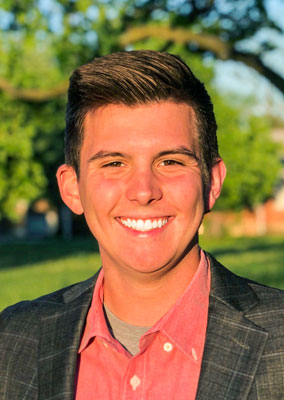 Banks, a junior from Branson, was one of more than 50 students who applied for one of seven scholarships being offered for the first time by the MBF.
"I am currently majoring in Christian Ministry with a concentration in discipleship with hopes to graduate and become a full-time missionary with a nonprofit called GenerationNext in Kenya," Banks said. "The specific education that I am getting at Southwest Baptist University will, I believe, help me to be well-equipped to not only share the Gospel with people I would encounter, but also equip them to go out and share the Gospel themselves."
Scholarship recipients will be awarded $2,000 toward their upcoming fall semester's college enrollment. Each applicant prepared a 750-word essay on the reasons they would value the opportunity at a Christian college and how it could affect their future.
"Congratulations to Jacob as a recipient of the MBF scholarship," said Dr. Brad Johnson, vice president for university relations at SBU. "We are thankful for the many students we have the opportunity to serve and for the faithful support of the Missouri Baptist Foundation."
The MBF's Board of Trustees' goal for the scholarship is to help students with an interest in Christian higher education, knowing it can make an eternal difference in advancing the Gospel.
"We believe in Christian higher education, and we want to make it slightly more affordable to at least a few worthy Missouri Baptist students," MBF President Dr. Neil Franks said. "We are very happy for Jacob and delighted we can encourage him in his journey."
For more information about SBU, visit SBUniv.edu, and to learn about the Missouri Baptist Foundation, go to www.mbfn.org.
*Published: 8-5-19