Southwest Baptist University confers 613 degrees during three ceremonies
BOLIVAR, Mo. – Southwest Baptist University conferred 229 undergraduate and 269 graduate degrees during two ceremonies Saturday, May 18, on the Bolivar campus. Another 115 degrees were conferred Thursday, May 16 to graduates of the SBU-Mercy College of Nursing and Health Sciences.
"Commencement is the most important academic event for any university," said Dr. Eric A. Turner, president of SBU. "For SBU, we are a Christ-centered, caring academic community preparing students to be servant leaders in a global society. Commencement is a beginning for you, confident, competent, caring Bearcats. Our graduates are extraordinary people, working diligently to achieve this significant milestone."
Life Beautiful Awards
The 2019 recipients of the Life Beautiful Award are Sylvia Ofori-Yeboah and Tyler Dickenson, both of Bolivar.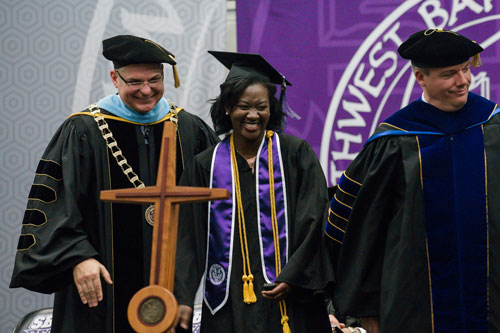 Ofori-Yeboah graduated summa cum laude with a bachelor of social work degree. She is a member of Phi Alpha Honor Society, was crowned Miss Southwest in 2017 and has served as an SBU campus tour guide.
"Sylvia is a blessing to all the students she interacts with in class, on mission trips and at other events on campus," SBU President Dr. Eric A. Turner read from a nomination letter. "She has consistently shown a wonderful work ethic in the classroom and encouraged her classmates when I have taught her.
"She accompanied my wife and I on a mission trip to New York City during the spring of 2017. She was able to explain the Gospel in a clear and compelling way. She did everything that was asked of her on the mission and coped gracefully with some difficult situations on the mission. At the end of the trip, she thoughtfully gave handwritten letters of encouragement to everyone who was on the team. She manifests a beautiful combination of academic and spiritual gifts while displaying a modesty that is winning to all those around her."
Ofori-Yeboah has participated in multiple mission trips through her church, as well as traveled with SBU's Center for Global Connections on a mission trip to New York City. She also is a volunteer for Night Light Ministries, an international organization that defends against sex trafficking and exploitation. Ofori-Yeboah has been a Bolivar KLIFE discipleship group leader for many years and has worked as a camp counselor for Kanakuk Kamps since 2015.
She is the daughter of Kwasi and Janet Ofori-Yeboah of Bolivar.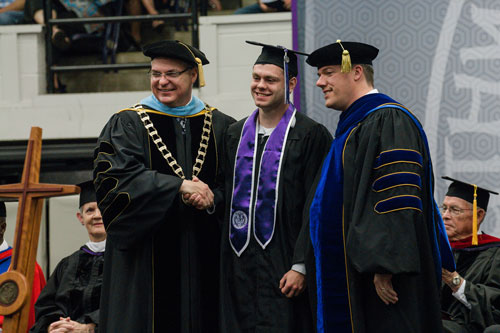 Dickenson graduated with a bachelor of science degree in exercise science and was a member of the Gordon and Judy Dutile Honors Program. He received the Missouri Baptist Scholarship and was an SBU Homecoming King candidate in the fall of 2018.
Dickenson has been a Sunday school teacher at First Baptist Church of Bolivar for the 6th- and 7th-grade boys during his time at SBU. He has been a youth leader for Men of God, Women of God student retreat as well as a camp leader for the Falls Creek Youth Camp since 2015. He has served as a student youth leader for DNow ministries for the past four years and, last summer, worked for Kanakuk Kamps. Dickenson has been a supervisor at SBU's Meyer Wellness and Sports Center, and volunteers at the SBU Faculty Clinic with rehabilitation activities under Dr. Amber Fleer.
"Tyler is one of the most caring students within the Kinesiology Department," states a nomination letter. "He shows genuine care and concern for those around him; including sending 'get well' emails when a class has been canceled due to illness.
"When Tyler's name is mentioned to others on campus or within the community, they speak highly of him and his Christ-like character. Whether it is through his work in the wellness center, where he is constantly smiling, or his work with youth at First Baptist Church in Bolivar, Tyler is mindful of how his actions and words affect those around him. He works to build others up, encourage, and show God's love and kindness through every interaction, no matter how big or small, Tyler is the highest example of joyful servant leadership."
He is the son of Eric and Mistie Dickenson of Bolivar.
The Life Beautiful Award was established in 1937 by Rosalee Mills Appleby, a career missionary to Brazil. This award is given annually to an outstanding man and woman in the Southwest Baptist University spring graduating class. These individuals have demonstrated by their scholarship and character that they are living a "life beautiful." The faculty selects the recipients, whose identities remain confidential until commencement.
Orien B. Hendrex Award
Joe Wooderson, assistant professor of kinesiology on the Bolivar campus, received the Orien B. Hendrex Distinguished Teacher Award.
The award is presented annually to a faculty member who has been judged by the previous three years' graduating classes to be outstanding in both teaching ability and personal guidance. The SBU Board of Trustees designated this award in memory of Hendrex, a former academic dean.
Bob R. Derryberry Senior Address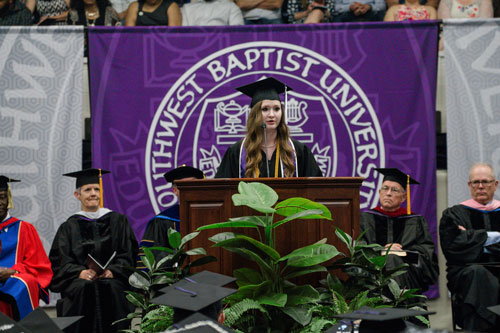 Senior Mikayla Throne, marketing graduate from Ozark, Mo., and daughter of Larry and Melva Throne, welcomed her fellow graduates to "the title page of a new chapter."
In addition to the 2019 graduates entering a new chapter in their lives, the university also enters a new era, Throne said. She posed two similar questions that have been asked of the university during its strategic planning process – what should never change about SBU, and what should change – and proposed a few possible answers for her classmates.
"Because change can be intimidating, let's start with the things that should stay the same," Throne said. "Two key characteristics come to mind – excellence and service.
"First, SBU's mission statement is unapologetically academic. Just as iron sharpens iron, this rigorous course work has produced these bright young scholars here today. To my fellow graduates, I urge you to never tire of striving for excellence."
Throne described SBU as "fiercely service-oriented" – from mission trips to community life and worship credits.
"Our university puts a heavy focus on compassion for communities," she said. "Not only does this align with SBU's mission statement, but it also brings to life instructions like James gives – to visit widows and orphans in their affliction.
"To my fellow peers, continue to help those in need; fight for those without a voice; and embrace the spirit of giving that our university has instilled in us these last four years.
"While these traits of excellence and service are clearly elements that should remain the same for the graduating class of 2019, now comes the more difficult part – what should change?
"I would argue that the biggest variable should be our environment. As SBU graduates, we are to be servant leaders in a global society, which means bringing light to a world of darkness. Instead of hiding your light under a bowl, follow in the legacy of our previous Bearcats and let your light shine before men. You might even be surprised at what you can accomplish."
She noted 2018 graduate and Life Beautiful recipient, Tiana Brownen, who has been impacting communities in Bulgaria through education; Rebecca Randles, a 1985 graduate and SBU trustee, an attorney at law specializing in seeking justice for victims of abuse and psychiatric malpractice; 12-time coach of the year, John Bryant; famed musician Buddy Baker; and Missouri senator Roy Blunt – all SBU graduates, who have made, or are making, their impact on today's global society.
"Our time at SBU has left us well-poised to go and make the good changes that this world needs," Throne said. "We must change our surroundings in order to follow in the legacy of our previous Bearcats and make our own impact on today's global society.
"I will be anxiously waiting to read the stories that we write."
Dylan Pich, music education graduate from Union, Mo., and son of William and Teresa Pich, performed his arrangement of "How Great Thou Art" on saxophone.
Commencement speakers
Amy Ashley, who graduated with an associate of science in nursing degree and recently accepted a position on Mercy's inpatient neurology floor, was the student speaker for the SBU-Mercy College of Nursing and Health Sciences ceremony. Marissa Young, associate of science in nursing graduate, performed "He Knows My Name," by Annie McRaes.
Ashley shared how the graduating class has stories to tell and how it has bonded throughout its educational journey and through the life events that have, and will, happen.
"We have struggled to reach this goal and we should be proud of more than the culmination of our education," Ashley said. "I wish I had time to tell each of your precious stories because you have all truly given your hearts to this program. We have wept and we have become a family. We will leave tonight as more than graduates.
She reminded her fellow graduates to treasure the memories of sacrifice and struggle as they pursue their paths.
"I remember my first day of nursing school I had my eye on the prize. Through it all, I kept sight of that goal, but the struggle itself is what built my patience and brought me the relationships I have with all of you today. It is that perfect work of patience that we learn from defeat and failure that teaches us to reach out for help and seek greater understanding."
Ashley had the opportunity to work with a chaplain at Mercy Hospital, and they later discussed the difference between nursing care and spiritual care. As a nurse, she looks to see what is wrong with the patient and create a nursing diagnosis. The chaplain looks for what the patient sees is wrong.
"That deep skill of empathy, seeing our patient's deepest hopes, is a skill I believe each one of us here possess," Ashley said. "It is a great gift wielded by healing hearts. Remember, as servant leaders, to use insight. You have learned that you will stumble and you do not know every answer. Be aware of your inabilities, but also be aware of your capabilities. All we have gone through has strengthened your hearing, so that you know when that little voice is speaking, listen, listen to the big voice, too.
"Do not forget who stands beside you today, but never forget the one who holds you in His hand."
Dr. Gary Longenecker, retired minister and founder and director of Kingdom Sports Products, delivered the commencement address at the undergraduate ceremony. Since retiring from full-time ministry at First Baptist Church of Lebanon, Mo., Longenecker has been involved in a variety of ministries. He served as the associate director of church mobilization for global focus and as an associate director of partnerships with the Missouri Baptist Convention. During the last 15 years, Kingdom Sports Products has distributed more than 100,000 soccer balls in more than 125 countries. Thousands of people have received Jesus Christ as Savior after hearing the Gospel message through the "Ball of Many Colors."
Elyse Nimmo, MSN, RN-Mercy Clinical Educator II, delivered the commencement address at the graduate student ceremony. Nimmo has been a registered nurse for 12 years, with her area of expertise being in pediatrics and pediatric intensive care nursing. She is a three-time graduate of SBU, having earned her associate of science in nursing in 2006, bachelor of science in nursing in 2008 and master of science in nursing education in 2018. Nimmo has served as a clinical educator to pediatric nurses since 2014 and currently is the Pediatric Intensive Care Clinical Educator at Mercy Kids Hospital in Springfield, Mo.
*Published: 5-18-19
NOTE: Graduation photos are available on the SBU Facebook page.