BOLIVAR, Mo. — Southwest Baptist University graduated 204 students at two winter 2018 commencement ceremonies in the Jane and Ken Meyer Wellness and Sports Center on the Bolivar campus.
The SBU Mercy College of Nursing and Health Sciences held its commencement on Thursday, Dec. 13, and the ceremony for all other graduates was held on Friday, Dec. 14. The University holds graduation twice a year, in December and May.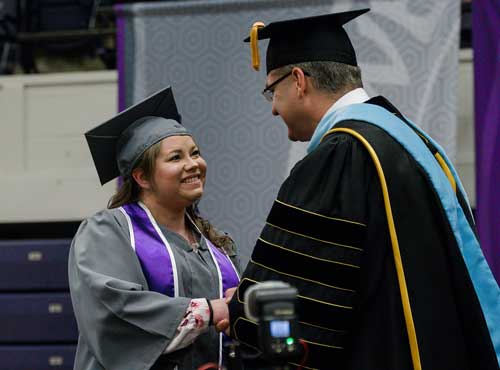 SBU President Dr. Eric A. Turner said, "Commencement is the most important academic event for any university. For SBU, we are a Christ-centered, caring academic community preparing students to become servant leaders in a global society.
"Our graduates are extraordinary people, working diligently to achieve this milestone. Our faculty, as you well know, are outstanding Christian scholars, devoted to providing excellent academic and spiritual examples for our students."
Marisa Mayo, a political science graduate from Springfield, Mo., delivered the Bob R. Derryberry Senior Address at Friday's commencement. She is the daughter of Wes and Tiffany Fanning, and Kent and Vicky Mayo.
Mayo reminded her fellow graduates that while it's important to pursue their goals and dreams, it also is important to cherish the little moments.
"These seemingly little memories are what we tend to remember most," Mayo said. "As we look back on our memories at SBU, we start to realize the moments we say we'll miss the most aren't the most glamorous or exciting, but the ones that allowed us to grow closer with others."
And, while the 2018 graduates should be proud of the degrees they worked hard for, Mayo said, remembering how SBU has equipped them should remain with them always.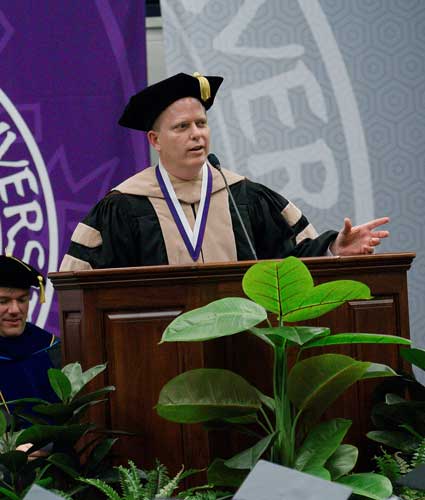 "SBU has provided us with an environment that has enabled us to help those around us," Mayo said. "Be an advocate for the voiceless and stand up for what's right, even if that means standing alone.
"We can't stop the mission here. If we're going to make the world a better place, we must take the initiative to do so by utilizing our voices and our actions to bring about change."
In his commencement address, Dr. Troy Bethards '93, dean of SBU's Robert W. Plaster College of Business and Computer Science, encouraged the graduates with a few of his "Nuggets of Wisdom;" one of those nuggets being that perspective matters as they take the next steps in their lives after college.
He shared what perspective means, what proper perspective looks like and how to achieve that proper perspective.
Bethards cited "A Christmas Carol," and told of how the ghosts who visited Ebenezer Scrooge helped him to recognize that he must change the way he was living, "so that his burden after death will not be so great. Scrooge recognized the value of having longer-term perspective. This story can perpetuate the idea that our after-life would be better if we're good in this life. By being good, Scrooge attempted to lighten the burden that he was going to bear later on.
"In reality, the Bible tells us in Romans 3:23 that 'all have sinned and fall short of the glory of God.' This means being good does not change our state of our outcome after this life. We're not perfectly good. But the standard that God has in place is perfect. Without redemption, we're separated from God for all eternity.
"What we can learn from 'A Christmas Carol' is that perspective does matter."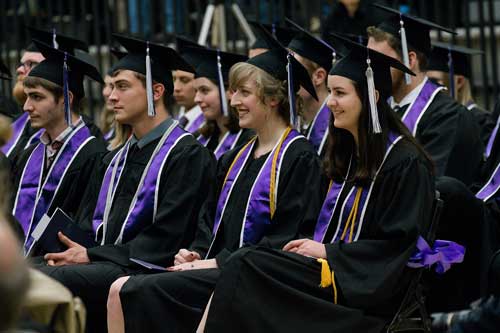 In discussing what proper perspective looks like, Bethards read Luke 9:25: "For what does it profit a man if he gains the whole world and loses, or forfeits, himself?"
"We can go after all this world has to offer, but to what end," Bethards asked. "Passages in Luke and in Matthew (6:19-21) tell us on an ongoing basis that we should focus on matters of eternal significance.
"We need God-honoring eternal perspective. That should be our focus. That should be what we're striving for."
Achieving proper perspective can be found in Luke 9:23, Bethards said. "And He said to all, if anyone would come after me let him deny himself and take up his cross daily and follow me.
"We are supposed to be pursuing a God-honoring, eternal perspective. In order to do that, we need to deny ourselves and start thinking of what is eternally important. We daily need to live for Jesus."
Bethards reminded the graduates to ask themselves, no matter what line of work they are pursuing, do their daily activities promote what matters to God?
"Regardless of what you end up doing, it's how you do it that matters," Bethards said. "You're equipped with a good education. I know the faculty have worked hard to make sure that that is true.
"How you use what you now possess to live your life for Jesus, is key. Daily seek a proper, God-honoring, perspective, live for Jesus and you will never regret it."
During Thursday's ceremony, Douglas Wayne Glick Jr., a bachelor of science in health science graduate, challenged graduates to pursue new worthy goals and tasks.
"I say worthy goals and tasks because you have chosen to enter the field of healthcare and there is rarely a more noble calling than to serve others in their time of need," Glick said. "Regardless of where you see yourself falling into the vast spectrum of healthcare, you'll be a valuable part of that overall noble calling."
Glick shared some of what he has learned during his 10 years working in emergency medical services.
"There is something very different about this profession, something that should never be taken for granted as we continue to serve others," he said. "Regardless of where one is in the medical field, each one of us has been invited into that person's life in their time of need. They may not be able to recognize us on the street and say thank you. They may not be able to remember the words that we said. They will remember the way that we made them feel in that time."
He also recognized the importance of teamwork.
"We do not have to bear the responsibility and the burden that our chosen path places on us alone," he said. "We've joined into a family, a family filled with our co-workers and bolstered by our family members."
PHOTO CUTLINES: 1. CJ Noelle Hobbs (left) is the first SBU graduate to receive a diploma from President Dr. Eric A. Turner. 2. Dr. Troy Bethards delivers the commencement address at the Friday ceremony. 3. Members of the SBU Class 2018 listen to Dr. Bethards' commencement address.
*Published: 12-17-18